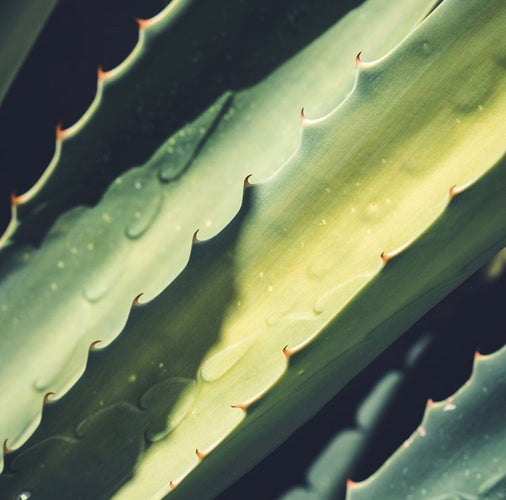 Aloe Vera Benefits: 5 Great Uses for Nature's Wonder Plant
June 15, 2020
Aloe vera is a succulent plant species that's been used as an herbal remedy since the first century AD. Its leaves are a thick, fleshy, grey-green color and the plant is known for its phytochemicals. And all those antioxidants mean it's great for your skin. Aloe vera produces two substances, gel and latex. Aloe gel is a clear substance found in the inner part of the plant leaf and can be found in many skin and health products.. The gel and it's juices have been know to help treat a variety of skincare conditions due to its vast medicinal properties and health benefits.
5 Great Topical Uses for Aloe Vera
1. Relieve sunburn. Ale vera gel is probably most widely known and used for soothing sun burned skin. The best form of aloe gel is not that electric green bottle of gel commonly found in the pharmacy, but rather is a thick translucent gel . Make sure to buy 100% pure aloe gel or simply break an aloe plant leaf in two and apply the inside substance directly to your skin. For a different take, freeze aloe vera gel in an ice cube tray. Soothe and cool the skin with homemade aloe vera ice cubes.
2. Reduce dark spots on face. Aloe has subtle skin lightening properties, from absorption of UV light to moisturizing aging skin. Choose natural topical darkspot creams made with aloe.
3. Relieve dry skin, excema and brittle hair. Aloe vera is known to deeply moisturize. It is therefore very good to help soothe dry, cracked feet. Aloe vera gel or its juices can be added to make foot scrubs, body scrubs or can even be used for nourishing your hair. 
4. Soothe bug bites. It's cooling and pain relieving, that's why aloe vera is great when applied directly to bug bites in a similar way as you would apply it to sunburn. It's also good for killing potential bacteria and preventing infection naturally while allowing bites to heal faster.
5. Remove makeup. Gently apply the gel to remove eye makeup. Aloe vera is a makeup remover that's naturally effective without the harsh chemicals of many conventional makeup removers.
Did You Know?
Aloe vera plants are very hardy and therefore popular household plants. Not only do they bring greenery to your living space, but you can always have their soothing gel naturally on hand. Try growing and caring for your very own aloe vera plant.
Originally written by Sara N,  contributing writer (May 2014).

Updated by Alyssa Rolnick, Co-Founder of Zax's Original Products, Registered Dietitian and Mother of 3 active kids.