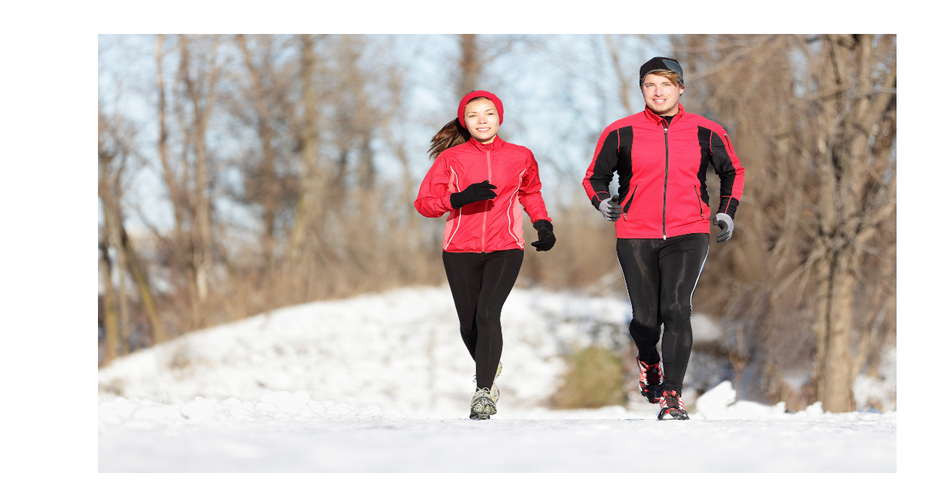 How to Prevent Winter Running or Walking Injuries
February 5, 2023
It's hard enough to find motivation to run or go for a walk when the weather isn't ideal, especially if you're experiencing winter weather. But even if you don't feel like hitting the pavement, winter days are still a great time of year to get moving because it staves off the depression that comes with cold and grey skies. Not to mention that it's helpful in avoiding cabin fever.  There is something calming about taking in nature and enjoying the beauty of the winter outdoors. 
But running or walking in the cold can make you more prone to injury for various reasons. This season make sure you do take these steps to prevent unnecessary injury:
1. Warm up indoors. It can be hard for your body to loosen up when it's freezing outside. So if at all possible, consider warming up indoors. You can start your run on a treadmill or an indoor track before heading outside. Consider running a half mile on the treadmill or a few laps at the indoor track before heading outside. If going for a walk, take some laps around your home or walk up and down the stairs first before heading outdoors. 
2. Make sure you have enough shoe traction. In the winter it's easy to slip and fall causing a number of injuries. Reduce the likelihood of injuries by making sure your shoes have enough traction and grip for the outdoor elements. Beware of black ice conditions and take a safe route. 
3. Protect your skin. Especially your eyes and any exposed skin areas like your cheeks and lips. As snow reflects UV rays, you can still get sunburned in the winter. Make sure to apply sunscreen even when it's cloudy outside. Protect your eyes by wearing glasses and keep your face and lips well moisturized.
4. Hydration is still important. Just because it's cool outside doesn't mean that you don't need to stay properly hydrated. We also tend to drink more dehydrating warm beverages like coffee when it's cold outside. Just make sure you're still drinking enough water.
5. Stretch before and after. Don't slack on the stretching. Make sure you spend a little extra time stretching before heading out into the cold winter air and after.
By taking these extra steps to keep yourself injury-free this winter so you can avoid the risks of slips and fall, frostbite and dehydration.
Written by Alyssa Rolnick, Co-Founder of Zax's Original Products, Registered Dietitian and Mother of 3 active kids.